Nearly ten years after graduating from college with my Bachelors in Exercise Science and three years after my Masters in Public Health, I've decided I'm not done yet and I've decided to go back to school to become a Registered Dietitian (RD).
I'm not your typical 19 year-old-student who is able to quit my job and go to classes. I have a kid, work full time, a business on the side, along with trying to have a life. So adding in classes seems pretty crazy, right? It is crazy but becoming a RD has developed into a dream and nutrition has always been a passion of mine.
During my time as an undergraduate, I took an introductory nutrition class and unfortunately it was one of those "horrible professor" situations. We spent way too much time talking about her personal opinion of supplements with no valuable assignments that she deterred me from completing my initial plan of doing dual-major in nutrition and exercise. So here I am ten years later doing research in how to become an RD.
To become a Registered Dietitian, you need to do three things:
Take the specific set of courses outlined by the Academy of Nutrition & Dietetics(AND) at specific schools who have gone through accreditation.
Complete the required internships, outlined by AND. This can be done separately or at the same time as the coursework, depending on your program.
Take the RD exam (and pass it!).
Choosing a Program
I spent a lot of time researching each of the programs that I could apply to. At the time we were living in Colorado but we knew that we would be moving so that added another bump in my plan. I even looked at nutrition certifications instead of RD to see if one of those would help me get to where I wanted to be. But ultimately, I decided becoming an RD is what I want and need.
Luckily, there are three schools that have distance education programs, The University of Alabama, University of Northern Colorado, and Kansas State University. I emailed each of the coordinators for more information and created a whole spreadsheet to compare each of the programs and started a folder. I looked at the pre-requisite courses that I would need to take and the ones that would be fulfilled by all the classes that I took in my undergrad.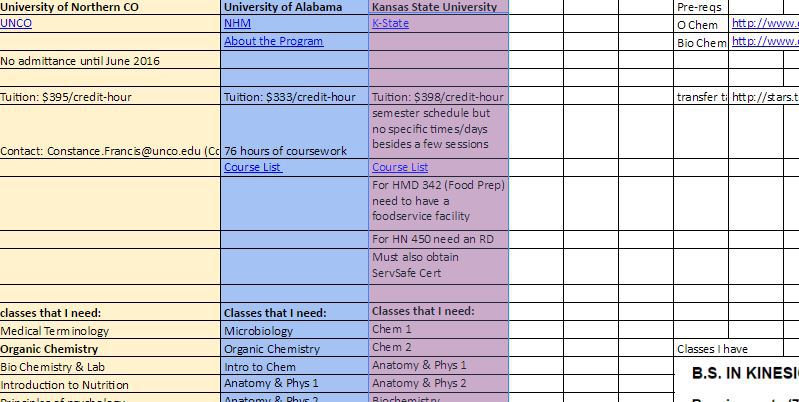 After reviewing everything, University of Northern Colorado (UNC) was my number one choice, even though I couldn't apply until I had the pre-requisites completed. So my first step was to find online classes that would transfer to the program. The nice thing about the UNC program is they sent me a detailed guide, which included a list of online courses that would meet UNC's transfer requirements. More tabs got added to the spreadsheet on comparing the online courses (prices, schedules, requirements for acceptance) and I was able to make a plan.
Applying to the Program of Choice
My plan was to finish my pre-requisites by August of 2015 so I could apply for the June 2016 program start date. When August was getting close and I knew I wouldn't quite be finished with my Biochemistry course, I emailed the coordinator and she confirmed that I could apply since I was currently completing the course and would be finished by June. She couldn't guarantee that I would get into the program with the uncompleted course but she recommended I apply.
I completed my application by the August 31st deadline and then was able to complete my chemistry course by the end September. So I sent my final transcripts in and emailed the coordinator to make sure it got put into my file. My theory is, it never hurts to be a "pest" when my future depends on it. Through the whole application process, the coordinator was super helpful and happy to answer all of my questions.
I received my acceptance email on January 4, 2016!! No pictures will be shared of my victory dance (too embarrassing) but I was happy and excited for June to come along so I could start taking fun nutrition courses.
Working Life
Meanwhile, I have been working as an Account Manager for a small start-up company and my stress levels from work were through the roof. I was having break-downs on a frequent basis, feeling overwhelmed, and feeling I'm not doing what I love to do. Although, I had just received an acceptance, I still have until 2017 until I will be done. It's challenging when you're working in a job that you're not passionate about or not feeling appreciated in.
That's when I started Jules Fit Club, now The Healthful Peach. Although, it didn't solve my work problems right away, it has been an opportunity to fuel my fitness passions, help people, learn along the way, and give me something to look forward to. Plus, I get to share everything I learn in my classes with you!
I have to balance my time like a performer on a tightrope. But I have the best husband in the world who supports and helps me with everything and days are so much more fun when I get to talk fitness and nutrition!
First Day of Classes
First day of classes for an online program is definitely not the same as going on-campus. As distance students we have the same courses, deadlines, and requirements as on-campus students have, we just complete the lectures and labs at home. We're broken up into cohorts so we can start to build relationships with one another and I'm in cohort 7.
Blackboard becomes your new best friend with online courses. But the first thing I always do is download the syllabus and enter deadlines and test dates into my Google Calendar (which I'm crazy about, I'm a type-A-over-organized nerd who loves calendars and this one I can color code all of my reminders)!
The Courses
Right now, I am in Nutrition in the Life Cycle and Introduction to Foods, which is a lecture and a lab. The biggest question is, how do you do labs at home? We have a list of supplies that we have to have in our kitchens, along with the food ingredients for lab assignments. We also have lab groups that we have to work with and all of the labs require photos of us doing the work and detailed observations.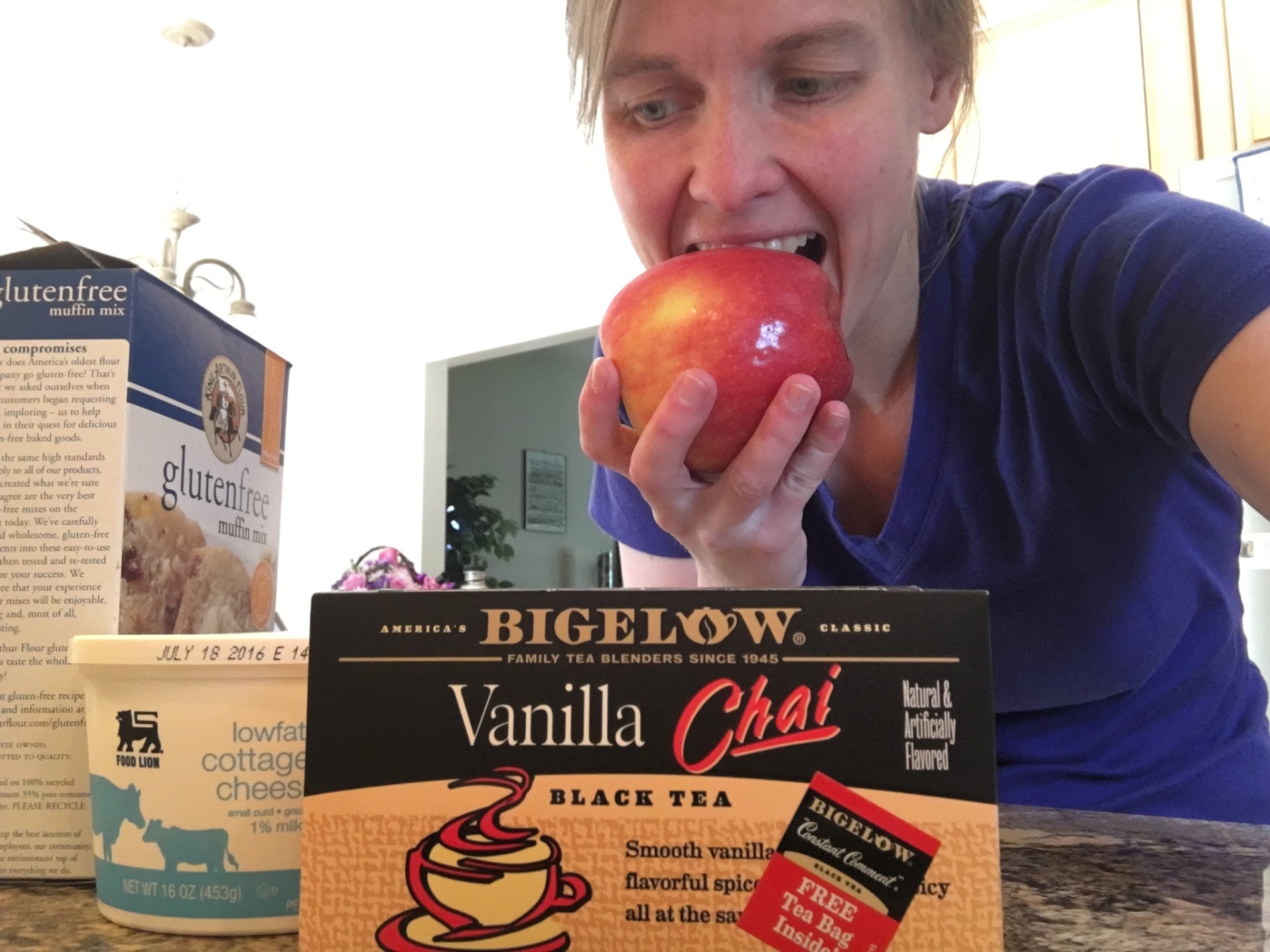 What's Next?
I'm just getting started with the courses and then after that will be my internship so be prepared for several more blog posts about my experiences and hopefully one day a big blog post that says, "I'm a Registered Dietitian!"
I'm sharing my experience as an online Registered Dietitian student, who works full time, with a family, as a way to encourage others out there who might be sitting on an unfulfilled dream. Life can be a lot of things (crazy, chaotic, happy, sad…) but we can all agree it's too short to not be doing what we love to do.