Carrot Apple Bread with Chickpea Flour
This carrot apple bread uses Chickpea flour (also known as garbanzo bean flour, besan flour, or gram flour). This type of flour is made by grinding dried chickpeas into a very fine powder. Since India is the world leader in garbanzo bean production, it's a very common ingredient in Middle Eastern and Indian dishes. Yet, because it's very versatile, it's becoming more and more popular in baked goods and other recipes.
I typically find it in the gluten-free aisle or even next to the other flours at Wegmans. Some of the smaller grocery chain stores may not have it. It seems pretty easy to grind up yourself but I have yet to try that (maybe that's something to do while we're sheltering at home).
Chickpea Flour Nutrition Facts
Garbanzo beans are a highly nutritious legume. Here's the nutrition label from Bob Red Mill's Chickpea Flour.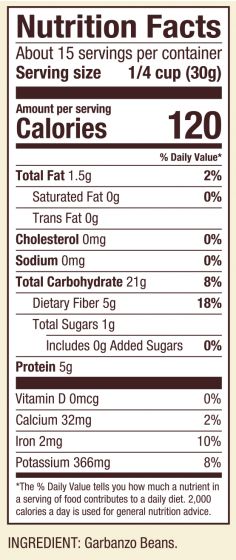 Using chickpea flour is an excellent way to increase your protein and fiber intake. It works well in vegan, vegetarian, omnivorous, and gluten-free dishes. Its mild, nutty flavor works well for many different recipes, both savory and sweet.
Using chickpea flour can give a nutritious boost to baked goods. You'll find it has a subtly sweet and slightly nutty flavor. With 20 grams of protein in one cup of chickpea flour it makes a smart choice to increase your protein intake. Yet, it's still light in texture and does well in many different types of recipes, both sweet and savory.
One thing about Chickpea Flour…
I don't recommend tasting the batter when using chickpea flour. It is typically made from raw chickpeas so wait until it's baked to taste it. I also feel it has a slightly sour taste when it's raw.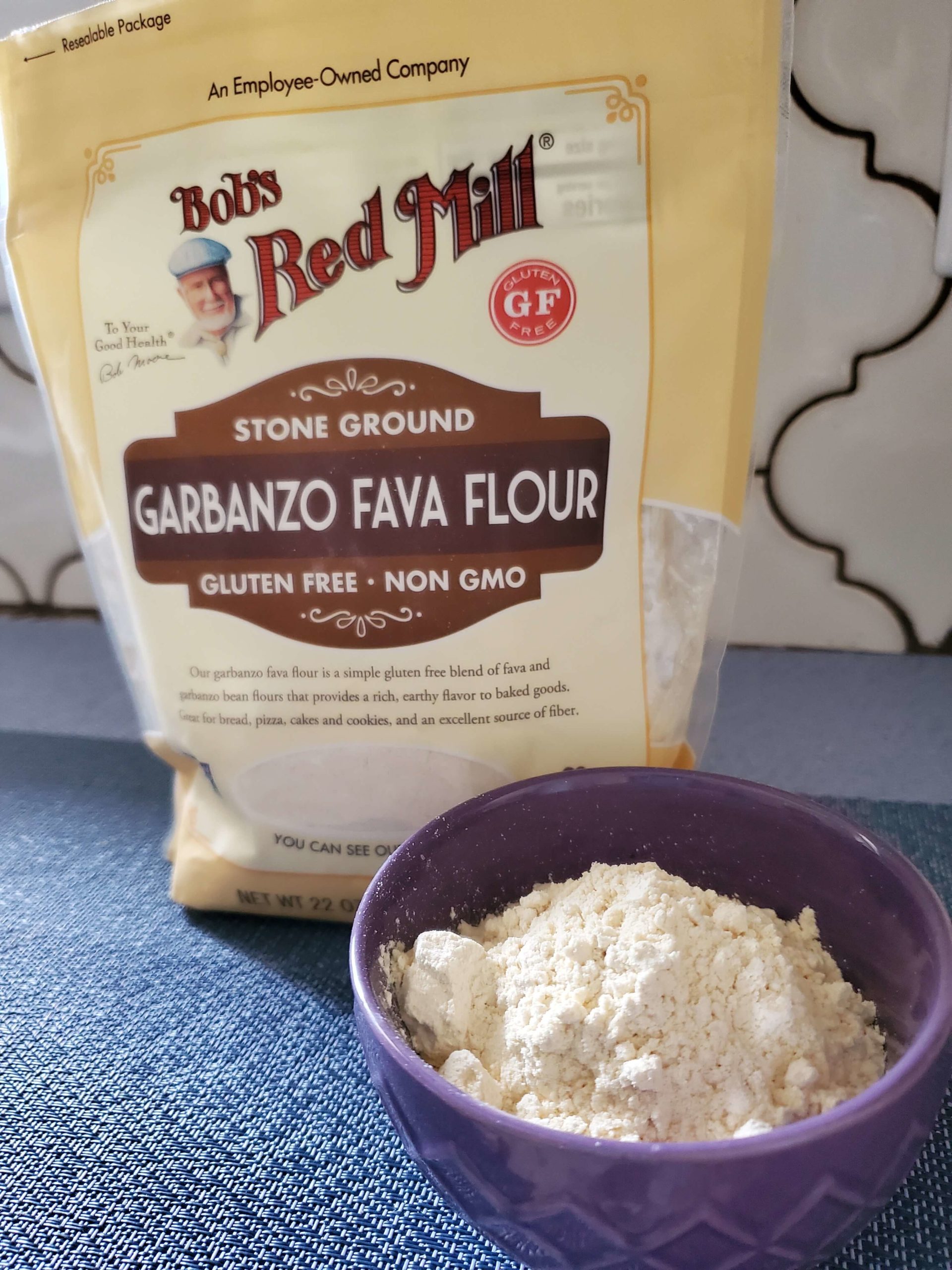 Carrot Apple Bread
Baking with carrots and apples adds a chewy texture and a natural sweetness. The chickpea flour has enough protein to ensure the bread isn't too wet or too dry.
You will notice that the carrot-apple bread batter is very thick. Since carrots and apples release water when baking, a thick batter gives it the right crumb. If the batter is too thin, your bread will be soggy when it's done baking.
Timing Tip for Making Carrot Apple Bread
As a baker, I've come to learn that the bake time in the recipe is just a guide. It's a starting point because baking times will vary depending on your ingredients, climate, and your oven. You may need to bake the carrot-apple bread shorter or longer. I like to use a toothpick to check the doneness.
Quick Breads Make Great Post-Workout Snacks
What goes on your plate after you workout will slightly depend on the type of workout you're doing. Yet, smartly timed snacks can give the body the fuel it needs to build muscle and recover. You can make a loaf of carrot apple bread and have a slice ready to eat when you're done working out.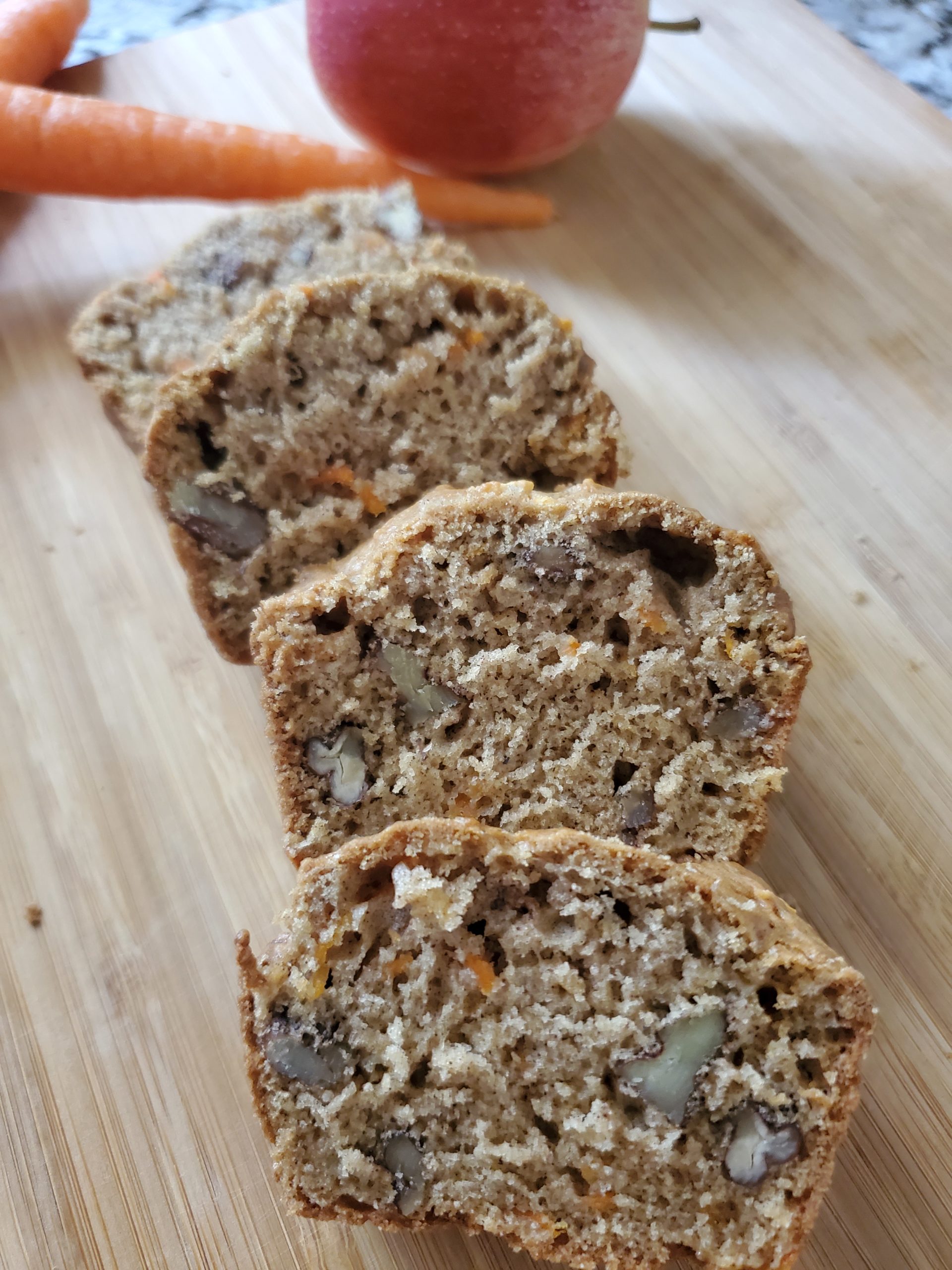 Print
Carrot Apple Bread
I love everything about this quick bread. It's lovely right out of the oven, but also great the next day. The bread also makes a great post-workout snack, as it's easy to a slice with you.
Ingredients
1

cup

sugar

1/2

cup

butter, softened

2

eggs

4

tablespoon

cream cheese (vegan if making dairy-free)

1/4

cup

carrot, finely grated

1/2

cup

apple, grated

2

cups

chickpea flour

1

teaspoon

baking soda

1/2

teaspoon

baking powder

1/2

teaspoon

salt

2

teaspoons

cinnamon

1

teaspoon

nutmeg

1

cup

pecans (optional)
Instructions
Preheat the oven to 350°F. Spray a loaf pan with cooking spray. Set aside.

Place softened butter and sugar into a large mixing bowl. Mix until butter mixture is pale yellow and light and fluffy. Use a rubber spatula to scrape the sides of the bowl once or twice while mixing.

Whisk in eggs, one at a time. Add the cream cheese and vanilla. Beat until mixed well. Add the carrots and apples. Mix together. The batter will be thick and a little chunky.

In a medium bowl, whisk together the flour, baking soda, baking powder, salt, cinnamon, and nutmeg.

With a rubber spatula, fold the dry ingredients into the wet ingredients. Combine until no streaks of flour remain. Fold in pecans, if adding these. You want to make sure there's no flour streaks but you also want to be careful not to overmix.

Pour batter into your prepared pan. Bake for 25 to 30 minutes, or until a toothpick/tester inserted in the center comes out clean.

Remove from oven and let bread cool in the pan for 5 to 10 minutes.

When the pan is warm to the touch, remove bread from pan and let your loaf cool completely. Slice and enjoy!