I don't know if the past four weeks have flown by or if I am just grateful to be through them. If you aren't familiar with a dietetic internship, there are four rotations that are required: Food Service Management, Clinical, Community, and elective (mine is business & entrepreneurship). I won't have to do a community rotation because I received credit for those hours based on my past 10 years experience in the wellness industry.
The past four weeks I have been in my Food Service Management rotation. I have to complete eight weeks but since my clinical site could only take me starting in March, I am breaking up my food service rotation and will be completing the remaining four weeks after my clinical rotation.
Working Hours
Not only do dietetic interns have to pay for the internship but they also don't get paid for during the internship. When I went to my boss back in December to tell her I had to quit to complete my rotations, she convinced me to stay on part-time. I am grateful to have some income during my internship but the days are long.
Schedule
4:30 am – alarm goes off
4:30 – 5:30 am – workout time in my basement
5:30-6:30 am – shower, breakfast, emails or spend a few minutes with Emmett if he wakes up
6:30 am – on the road
7:00 am – 3:30 pm – internship hours
4:00 pm – pick up kiddo from daycare
4:00 pm – 6:00 pm – playtime with Emmett on some days; meetings for work other days
6:00 pm – 7:30 pm – dinner, bath and playtime with Emmett before he goes to bed at 7:30
7:30-9:30 pm – work time
9:30 pm – bedtime

Location
For my food service rotation, I completed my hours at Washington County Public Schools Food & Nutrition Services Central Offices. And even though there are certain competencies and assignments we have to complete, my preceptor had identified some projects that I could help him with that would fulfill these. My two primary projects that I worked on over the past four weeks was the new wellness regulation and developing a menu for their central office cafe.
Projects
I enjoyed working on the wellness project. There's a lot of history and heated discussions that went into this policy. For those that have children in public school that receives government funding for food, your school district has developed some form of the wellness regulation.
In 2004, the federal government made the policy that each local educational agency that participates in the National School Lunch Program or other federal Child Nutrition programs establish a local school wellness policy for all schools under its jurisdiction. The law requires food to meet certain criteria or it can't be sold to children.
WCPS had a very "loose" wellness regulation and the policy "encouraged" healthy snacks. But it didn't have much more guidance for teachers, parents, and students. Then in 2017, a new wellness policy was implemented and it was strict. The policy didn't allow for any foods outside of the food and nutrition services to be distributed to children. The policy removed celebrations from the classroom. The idea was to help promote healthy foods to children but the policy had unintentional consequences.
As you can imagine the Wellness Committee got a lot of feedback. And decided they needed to revise their wellness policy. So that's where I came in. The new policy allows for four celebrations per year and provides a lot more guidance around the foods that can be shared in the classroom.
Presenting to the Board of Education
This past week we presented an update to the WCPS Board Meeting.If you're interested in learning more or to see what it is like to present to a board of education, here is the video of the meeting. Skip to about 1:50 on the video, which is when I present with my preceptor and the co-chair of the wellness committee. The first nearly 2 hours is public comment about other issues and other presentations.
Creating a New Menu
My other major project was creating a new healthier menu for the employees that worked at central office. My first day I ate lunch with my preceptor in the cafe. I ordered the main entree, sweet and sour chicken, rice, and veggies. All afternoon I couldn't stop burping and didn't feel great after lunch. When I did the nutritional analysis on this dish, everything was OK, except the sodium. Sodium was 1875 mg! Your daily recommended amount of sodium 2,300 mg.
That explained why I didn't feel so great after eating in the cafe. I shared this with my preceptor and we continued to look at the sodium levels of the current menu. We found the entrees to have an average of 1050 mg, with the dish I had being the highest.
The other major component of the developing a new menu was right now the cafe is not turning a profit. I wanted to find out why and what people were looking for in their cafe.
Focus Group and Surveys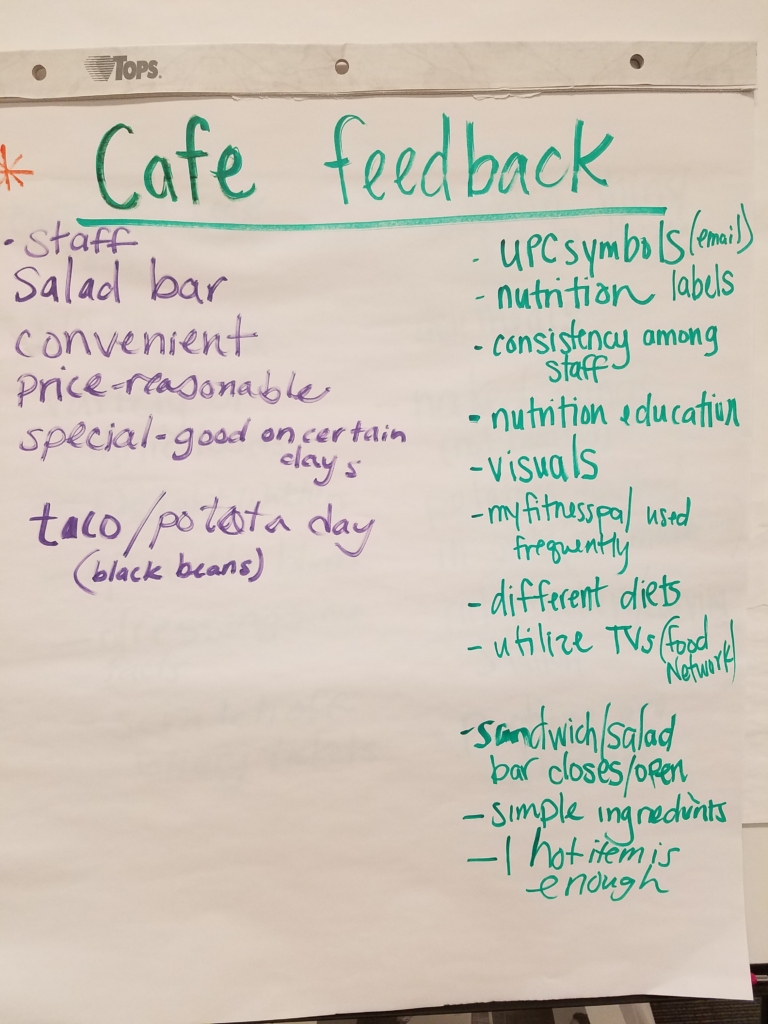 Give people a chance to speak up and they will take it! I did a focus group and sent out a google survey to all the employees and we received a lot of participation.
The employees gave us some good reasons why they weren't purchasing lunch. And they gave us some ideas of what they wanted to see offered.
Although, not all of it was helpful feedback. As my favorite not so helpful response from the survey was, "I am not as concerned with the quality or freshness of the ingredients VS price of the items. Give us cheap food. You know like McDonalds."
Developing a New Menu
We decided that the menu would be a 4-week cycle menu. And we needed a hot entre, sandwich of the week, salad of the week, and 2 soups per day.
One of the priorities was to identify food costs, both for the current menu and the proposed menu. They had not done a lot of food costs analysis. I was going crazy with their spreadsheet that didn't have equations built in to it and was very hard to follow. Recruiting the help of my engineer husband (hey, use your resources when you have them), we developed an excel for food costs.

Now the proposed menu fits into a 35% food cost and the team knows which menu items are the most costly.
Service
When I wasn't working on my projects, I helped in the kitchen. I helped prep, cook, and distribute lunch to the employees. The cafe staff were all really nice and enjoyed sharing everything with me.
What's Next
The new healthy menu will be implemented when I go back. Mid-way through my rotation, my preceptor decided it was time to let-go the supervisor of the cafe. So that put the schedule on hold until they get the replacement hired.
Next week I start at Medstar Washington Hospital Center in DC. I'm looking forward to it. But I am adding an hour long commute into my day so if you have recommendations for podcasts or books on cd, please share!
Other Posts about my Dietetic Internship: