A few weeks ago a fellow runner brought some homemade bars to share with our group. And it was unanimous that they were so yummy. And after running 14 miles, it's helpful to eat something with the right combination of protein, fat, and carbs. These are so yummy and they fit the criteria for a good post-run bar.
Eating After a Run is Important
During a run, your muscles use up their glycogen storage for fuel. And some of your proteins in your muscles may get broken down. After a run is when your body tries to rebuild muscle proteins and glycogen stores.
Eating an adequate amount of protein after a run gives your body the amino acids it needs to repair and rebuild proteins, as well as build new muscle tissue.
Protein Recommendations for Post-Run
General recommendations for protein after a workout is 0.14-0.23 grams of protein per pound of body weight.
Carbohydrate Recommendations for Post-Run
Endurance activity, like running long-distance, causes your body to use more glycogen than strength training. That's why runners tend to need higher amounts of carbohydrates.
Studies have shown that eating 0.5-0.7 grams of carbs per pound of body weight can help glycogen resynthesis.
Eat Carbs and Protein Together
Insulin is a hormone made by the pancreas that allows your body to use the glucose from carbohydrates. When carbs and protein are eaten at the same time, insulin secretion is better stimulated.
Therefore, eating both carbs and protein after a long-run can help recovery.
Generally, we recommend eating the two in a ratio of 3:1 (carbs to protein). For those of us that aren't math-wizzes, it doesn't have to be a perfect ratio but think of foods that have more carbs than protein.
Should you eat fat after a run? 
Fat slows down digestion but research has shown that it doesn't affect glycogen synthesis. Some research has even shown that when it's combined with carbs and protein, it may help promote muscle growth. For example, studies consistently show that whole milk is more effective at promoting muscle growth than skim milk.
Try these bars after your next run.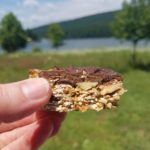 Print
Birdseed Bars
A tasty and filling post-run bar. This recipe was based off Birdseed Bars in Rise and Shine cookbook by Katie Sullivan.
Ingredients
1 1/4

cups

old fashioned oats

1/2

cup

sliced almonds

1/3

cup

Pepitas

1/4

cup

quinoa

1

tbsp

chia seeds

1/3

cup

dried cranberries

1/2

tsp

salt

5

large

dates, pitted

1/4

cup

almond butter

1/4

cup

honey

2

tbsp

water

6

tbsp

chocolate chips
Instructions
Preheat the oven to 350 degrees F. Line an 8X8-inch baking pan with a piece of parchment paper.

Spread out the oats, almonds, pepitas, and quinoa on a large baking sheet. Bake for about 10 minutes. You don't want the almonds to burn.

Remove from the oven and transfer to a large bowl. Add the chia seeds, dried cranberries, and salt. Stir well.

Put the dates, nut butter, honey, and water into a food processor. Pulse until the ingredients form a thick paste. Scrap down the sides as needed. The dates may be left in tiny chunks.

Spoon the mixture into the bowl with the oats. Stir until well-combined (I like to use my hands).

Spread the mixture into the pan and use your hands to press firmly into the bottom, creating an even layer.

Put the chocolate chips into a small microwave-safe bowl. Microwave on high in 30-second bursts, stirring the chocolate after each one. You want the chocolate to be smooth (depending on your microwave, about 2 minutes).

Drizzle the chocolate over the top of the bars.

Put the pan into the freezer for 30 minutes, or until firm.

Remove the pan from the freezer. Cut into 12 bars.

Keep them stored in an air-tight container in the refrigerator.