Are you a summer person? I am, it's my favorite season. One of the reasons is there are so many types of fruits and vegetables in season. The variety of foods provides our bodies with nutrients, keeps dinners interesting, and keeps us going back to the farmer's market. And this week's meal plan not only incorporates summer fruits and vegetables but it also has a Mexican-theme (which, happens to be my favorite cuisine of food). These recipes tend to make enough for leftovers, which is great for next-day lunches. I hope you enjoy this Pescetarian Mexican-themed meal plan.
Here is this week's Pescetarian Mexican-themed meal plan: 
Meal 1: Sweet Corn & Zucchini Pie 

What I like about this meal: It's a perfect meal for meatless Monday. Or if you don't want to stick to the pescatarian theme, you can add in chicken for an extra boost of protein. One of the nice things about one-pan meals is you can add anything you like. Personally, I love cilantro so any dish I can add that into is a winner for me.
Get the recipe from Pinch of Yum.
Meal 2: Veggie Enchiladas
What I like about this meal: I like to stuff these full of veggies. And the cream cheese and avocado gives you the fat that you need to absorb the nutrients from the veggies. A salad makes a good side since the enchiladas can be pretty filling.
Get the recipe from Build Your Bite.
Meal 3: Black Bean Tacos
What I like about this meal: You can't have a Mexican meal plan without tacos. And these tacos are perfect for any weeknight since they take less than 30 minutes to prepare. Black beans are an excellent source of folate (helps with normal functioning of red blood cells and helps with cell division), as well as an excellent source of fiber (keeps things moving through the GI system). And as many moms know, tacos are really great if you have selective eaters.
Get the recipe from Cooking Classy.
Meal 4: Chips & Peach Salsa, Rice, and Tilapia
What I like about this meal: For this meal, there's some freedom on what type of fish you want to use. If you aren't a fish person, stick to white fish, like tilapia or flounder. They have more mild fish taste. Serve with your favorite type of tortilla chips and cook up some rice. Rice gets a bad rap. But rice can be a great source of nutrients, like thiamin, niacin, and vitamin B6. I like to use brown rice and then mix the salsa in with the rice. Wild rice is also a healthy rice variety.
Get the recipes from The Rising Spoon (salsa) and Damn Delicious (fish).
Meal 5: Shrimp Scampi Pasta with Asparagus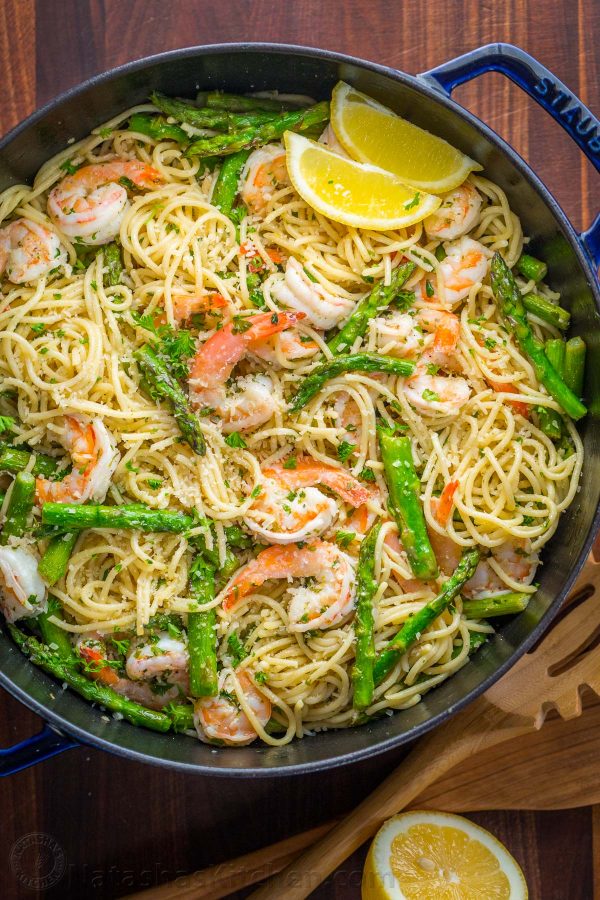 What I like about this meal:  Shrimp is a unique source of the carotenoid astaxanthin, which is an antioxidant and helps decrease inflammation in the body. It's also an excellent source of selenium, vitamin B12, and a very good source of protein, phosphorus, choline, copper, and iodine. If you don't have asparagus or want to use a different veggie, broccoli or green beans would go well in this dish.
Get the recipes from Natashas kitchen.